Safety Belt - An Introduction...
 Often people discard the threats behind working on heights, either because of negligence or because of the non availability of safety devices.
 Safety Belts / Harness is a must use device which will take care of your life when you are working at heights. 
That is the motive behind creating this video – "Safety Belts / Harness, Tips – Do's and Don'ts"
It is always advisable to wear ample safety gears while working at heights. 
The unexpected happens always unexpectedly. When working on heights always wear safety belts, helmets and shoes.
It is very much important to know How to choose a safety belt, How to wear it and How to use it. 
Just watch the demo video, in which i tried to point out the matters to consider while purchasing, using and maintaining it. 
This video is recorded in Malayalam language but viewers can understand the concepts by watching the live demo.
Safety harness should comfortably fit on your body. Try it  before you purchase it.
The points to keep in mind is that the belt should have sufficient length to wrap around your chest as well as to run between your thighs. 
It is better to visit the nearest shop rather than selecting it from and online shop.
If you wish to purchase it online, please make sure that the quality of the flaps are strong enough to hold your weight.
Also, look for a medium price product. Never go for a cheaper one.
Securely fastening the belt is another matter you should be serious about. A loosen belt will slip you through the harness during a fall.
 The video demonstrates the proper way to tighten it. Over tightening too will harm you.
Please wear all safety gears, while working at heights. Never neglect it, as one doesn't know what will happen in the next moment. Be safe, stay safe.
We have budget solar power plant packs for you. To have a look, please click the button below…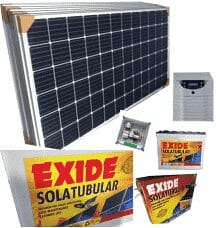 Total Page Visits: 1118 - Today Page Visits: 2