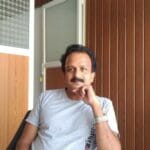 Hi !! Myself Abraham – who keeps a passion in making use of the green energy resources. Solar power systems is only one of its kind. I find happiness in giving meaningful solutions to my clients. Moreover, the excitement behind finding adequate solutions to the customers, confining to their budget, cannot be expressed in words. Implementation of such solutions is more challenging and needs character. Most importantly, I am excited to start a visual dialogue, to learn about you, and make something that is useful to you..
           Years ago, we started as a green energy solution provider. It is our passion to create a pollution free living space. Our aim is to protect the universe and use natural resources to cater your needs. As a result, we focused on Solar electricity systems. Also, we are good in dealing with home theater systems, lightning protection systems like external lightning arresters and surge protection devices. 
"Quality is our motto !!"
Firstly, we educate individuals to use green energy systems. We encourage every one to change the nature into a cool and soothing space to live. Most importantly, we try to transform the lives by using the renewable energy sources, abundant in the universe.
      Be it a solar power generation system, Solar water heating solutions, Setting up a theater at home, Protecting  your valuable equipments and yourselves from lightning,  Website development or Installation of home automation systems, we are ready to assist you. Most importantly, we strive to address your concerns on efficient energy utilization …
Our sincerity and dedication gave us a group of satisfied customers, since our inception. Patience and attitude are the key factors that backed up our run. Subsequently, our vision to create awareness on solar power systems, helped us to spread the advantages of solar power systems, to the people of all walks of life. Likewise, our sincere approach towards suggesting solutions, paved the way to the smooth journey.  And is continuing even after 2019. We laid our foundation and looking for further expansion. To sum up, we expect everybody to become a part of us.  
It is the process of finding the actual concerns, understanding the requirements and considerations.
Defining the systems that provides 100% satisfaction. In short, it is the process of creating a system that can meet your expectations.
Sizing a system considering the budget allocation and requirements.
Integrate various components in the system so as to attain maximum efficiency.
Installation of the systems within the time frame with utmost care and satisfaction.
Handing over the completed systems with warranty that eliminates the headache of clients
Would you like to start a project with us?
Just request for a quote through the "Request Quote" menu item at the top right corner of the page or drop in your contact details to enable us to get in touch with you.
Total Page Visits: 918 - Today Page Visits: 3