Marking Cables - Installation Standards
Identifying long cables used for wiring or for solar installation is a difficult ask. Marking Cables in a proper way is the only method to easily separate the cables.
Creating labels using computer and taking it to the site is as difficult as counting the pebbles.

Marking Cables - Possible options...
1. Have you ever thought of printing the labels and using it as and when required?
2. Have you ever thought of a handheld machine that is fitting your pocket?
3. Are you searching for such a device that has a brand value and an easy to get service network?
Here is a solution to all your questions. Just watch the video…
Availability
The accessories required for this machine is available in every nook and corner around the world. One of the major advantage of this product is that, it doesn't need a separate ink cartridge. 
The tape cartridge includes the printing tape too. There are a variety of printable tapes in different color combinations available online.
Moreover, you can use this machine to print labels for Files, Books and even Kitchen containers. Label anything that matters to you and be organized by organizing things.
Can you neglect it?
Why marking cables are important in an electrical wiring?
The person did the cabling might not be the one who are working on the cables in the future. 
Proper cable marking may easily tell the purpose of the cable and its function. 
Hence, identification helps to figure out functional problems and further corrections, if necessary.
When it comes to solar electricity systems, several cables may run from the panels to the array junction box. 
Separating different panel strings and knowing the polarity is needed to understand its functionality.
In future, if any problem occurs within the circuit, marking cables will help to isolate the problem string or the cable.
Would you like to purchase this Marking Cable printer? Click Here…
Save 4 units per day... Ultimate Home Solar Package...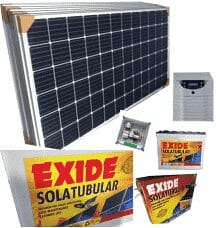 Total Page Visits: 917 - Today Page Visits: 1